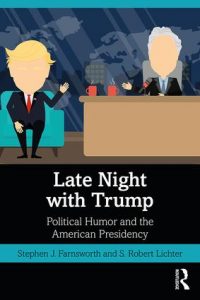 Join us ONLINE for the first Mary Talk of the 2020-21 academic year!
Our fifth Mary Talks season kicks off with Dr. Stephen Farnsworth, professor of political science and international affairs and director of the Center for Leadership & Media Studies at UMW, presenting "Late-Night Humor and the American Presidency."
Wednesday, September 16
7:30-8:30 p.m.
Online
Political humor has been a staple of late-night television for decades. The Trump White House, however, has received significantly greater attention than that of past presidents. In response to Trump's strident politics, late-night comics have sounded key policy notes, further blurring the boundary between news and satire. Weekly humorists extend the critique with in-depth probing of key issues, while Saturday Night Live continues to tap the progression from outrage to outrageousness. Employing a dataset of more than 100,000 late-night jokes going back decades, Farnsworth will discuss how humorists have treated recent presidencies, how the treatment of Trump differs from that of previous presidents, and how the Trump era is likely to shape the future of political humor.
Note: Online viewing is the only option for this Mary Talk, as we are not conducting any in-person events at this time.
The post Mary Talks: "Late-Night Humor and the American Presidency" appeared first on EagleEye.